The Advanced Practice Paramedic is physician extender, capable of extensive, advanced patient care interventions in critical and emergent patients. This individual possesses the complex knowledge and advanced interventional skills necessary to provide physician extension to the patient's side, allowing their physician medical program director (MPD) the ability to have physician level care extended to the scene of any emergency, through the hand, eyes, and ears of the APP. Advanced Practice Paramedics are the pinnacle of a comprehensive EMS response, under medical oversight. Advanced Practice Paramedics perform interventions and patient care management with the advanced and diagnostic equipment typically found in an advanced response vehicle, on an advanced practice ALS ambulance, or in an emergency department. The Advanced Practice Paramedic is a tertiary link from the scene into the tertiary health care system, serving as advanced responders, critical care transport providers, aeromedical providers, resuscitation officers, and in atypical care provision.
Students are provided with a challenging comprehensive education with didactic, laboratory, simulation, and clinical placement components. The program includes academic work both online and at our campus in Vancouver, Washington, practical labs at our campus, clinical placements in international locations with Tertiary facilities and/or transport teams. Participants may choose to facilitate a local clinical placement if approved by our program staff.
Pre-requisites:
21 years or older by start date of program.
High School diploma or GED
Copy of Driver's License or Copy of Current Passport Photo Page.
Must be a Nationally Registered Paramedic (or equivalent license from outside USA) or Foreign Registered Nurse with EMT certification (or equivalent license from outside USA).
Must have the following current certifications:

American Heart Association Basic Life Support (BLS)
American Heart Association Advanced Cardiac Life Support Experienced Provider (ACLS EP)
American Heart Association Pediatric Advanced Life Support (PALS)
Get your dream job
Our graduates are placed with actual employers of advanced practice paramedics during their internship in the program.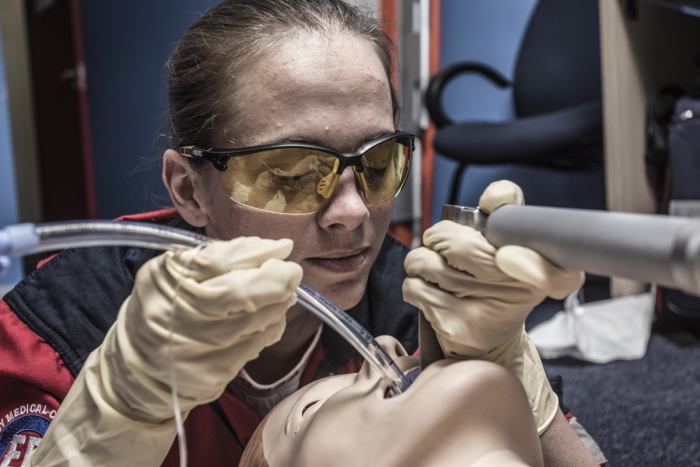 Be the best
Every one of our graduates exits the program having learned advanced practice skills, performed advanced skills, and managed critically ill patients; few programs in the world can attest to the student experiencing the range and criticality of patients you will have in the Advanced Practice Paramedic Program.
Military Veterans!
Not only do we hold military veterans in high regard, many of our instructors have served in military and other government organization roles. We believe strongly in the experience and learning provided by the U.S. Military and provide special focus on cross walking our educational curriculum for military veterans. Military veterans eligible for veteran's benefits are pre-certified for the program through the Department of Veterans Affairs (DVA) process.
Meet your match
You will meet your match in this program, if you wish to be the best in the world, this is the place to meet that expectation.
Join our history of excellence
Our program is home to instructors who are among the renowned medical personnel in the county, developers of some of the first special programs in the country, and some of the top medical directors in the country.
Learn from the best
You will learn from international faculty, who "walk the talk" and have held diverse roles in from providers to educators and administrators. Many of our faculty are active researchers in the field; which means we don't just present the current science, we create it!
Join Now!
Our program only accepts a limited number of students a year into training, the process to obtain a spot is competitive and we suggest registering early to begin the process.