Advanced Cardiac Life Support (ACLS) is the American Heart Association basic standard for acute care resuscitation.
This instructor-led course provides the core elements of resuscitation, highlighting the importance of high-performance team dynamics and communication, systems of care, recognition and intervention of cardiopulmonary arrest, and immediate post-cardiac arrest management. The ACLS course also covers acute dysrhythmia, stroke, and acute coronary syndromes (ACS).
OPTIONS:
ACLS NEW Provider initial course (2-day) is for people who have never held an ACLS credential. The course is formatted to ensure the information and skills are delivered steadily, instilling confidence in a positive learning environment.
ACLS Update (1-day) covers all the required material in a single-day setting. Our low-stress and informative classes build confidence and team interaction.
ACLS HeartCode BLENDED online with SKILLS SESSION has participants complete the AHA ACLS online HeartCode conveniently prior to attending an instructor led skills session. This combination results in an AHA ACLS certificate.
ACLS-EXPERIENCED PROVIDER: The ACLS-EP is a 1-Day course designed for Physicians, Nurses, Paramedics, and those involved in critical care likely to participate in critical care emergencies. If you need ACLS but want more case-based events in a positive learning environment, consider ACLS-EP. This highly reviewed class qualifies as your ACLS certification. More information HERE.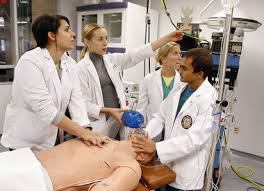 The Resuscitation Group can also offer your (AHA) BLS Provider / CPR for the Healthcare Provider certification as part of your ALCS, ACLS-EP, or PALS experience. Participants complete the online AHA-BLS pre-course material and a practical skils session with the ACLS class.
All classes provide:
Stress-free class environment.
Experienced Instructors.
Conveniently located throughout the Portland area.
Small group setting.
Detailed Hands-On practical skills.
BLS Provider can be included. (Contact us)
Pease contact us if you don't see a convenient date to participate in this program.